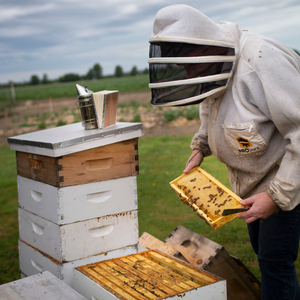 Please join us for a private tour of one of our apiaries for a group of up to 8 persons. During the tour, you will get an understanding of the life of honeybees. We will show you the bees inside the hive and you can get up close and personal with the bees and see them in action. We'll show you the various parts of a beehive and point out the Queen bee, worker bees, and drones.
After the tour, we will head back to the shop after the tour for a taste of honey straight from our hive and see some other products produced from the bees.
Please contact us to schedule a date and time that works for both of us!
Requirements: We ask that all participants wear pants and closed-toed shoes.  Masks may be required depending on COVID-19 protocols.  A long sleeve shirt is recommended. A signed waiver is required.