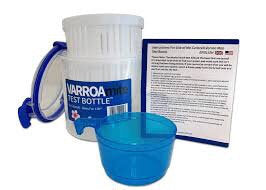 Varroa Mite Test Bottle is a ready-to-use varroa mite shaker that makes monitoring infestations more accurate and reliable than ever before.  Made in New Zealand
Designed for effectiveness: The filter basket is the key to the test bottles reliability! Fallen mites pass through the slots in the base and sides of the filter basket.

Quick and easy to use. And complete printed copyrighted instructions come in four languages (English, French, Spanish and German).

Easily transportable and made from robust, solid material.

Tight-fitting lid is leak-free and comfortable to use.